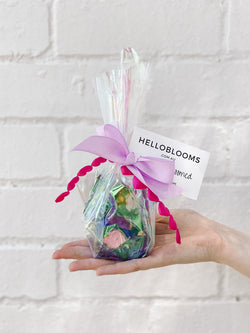 Add-On: Madera Rocky Road
A real sweet treat for you babes from our friends/neighbourinos/local caffeine dealers Madera Northcote! 

Featuring 2 pieces of milk chocolate rocky road (filled with nuts, pretzels and marshmallows) to share (or not!)! Wrapped in holo paper with a cute matching ribbon for an extra special treat. 
Please note:
This rocky road is available as an add-on only and must be purchased with blooms or a plant.
ALLERGEN INFORMATION
Contains:
Peanuts, Gluten, Egg, Gelatin, Dairy, Soy, Tree Nuts, Barley, Wheat
May Contain traces of:
Sesame, Lupins