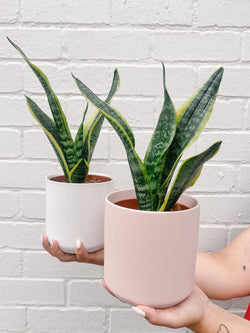 Plant: Snake Plant 120mm & Pot
The Snake Plant, also known as Mother-in-Law's tongue is a species of flowering plant in the family Asparagaceae, native to tropical West Africa from Nigeria east to the Congo. Officially named Sansevieria trifasciata this plant loves to be neglected and is the perfect plant for those who forget to water their plant babies.
Snake Plant Care tips
Tolerates low light conditions. Allow soil to completely dry out before watering again.
Hello Blooms Plants
For those green-thumbs, ain't no better way to make their day with a new plant baby! We have just released our new plant collection; and we are ready to hit up Melbourne.
Same day delivery available if ordered before 1pm. Delivering Monday-Saturday.
Check out our full range of plants for delivery to over 300 suburbs around Melbourne