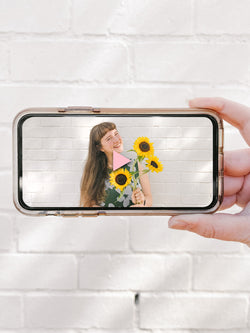 Add-on: Personalised Video Message
For when written words just aren't enough, personalise your blooms or plant with a video message!
Record your message to your loved one either on your phone or computer, then when your lucky recipient receives their blooms they can scan the QR code provided with their gift card message to see your pretty face via the power of the internet!
"How does it work?" we hear you ask:
- Once you place your order, you will receive an email with a link to record your message, or you can click the 'record your greeting' button on your completed checkout screen
- Click the link to get started
- Choose from an existing video from your camera roll or computer or record your video then and there
- Once you're happy with it, upload your video and your message will be ready and waiting for your lucky recipient to view! 
- Have some extra thoughts to share? You can update your video with a new message at any time
Please note: This is only available as an add-on to your blooms or plant.