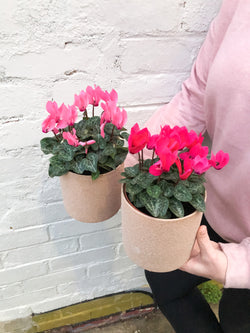 Cyclamen 120mm & Pot
A favourite amongst florists the Cyclamen flowering plant is the perfect gift for mum or yourself. This plant is delivered flowering and in a sand-finish pink ceramic pot. Colours of flower will vary.

Cyclamen Care tips
Flowering April through Winter to Spring. The Cyclamen doesn't like to be over or underwatered, water when soil is dry to touch and ensure good drainage before placing back in ceramic pot. 
Hello Blooms Plants
For those green-thumbs, ain't no better way to make their day with a new plant baby! We have just released our new plant collection; and we are ready to hit up Melbourne.
Same day delivery available if ordered before 1pm. Delivering Monday-Saturday.
Check out our full range of plants for delivery to over 300 suburbs around Melbourne