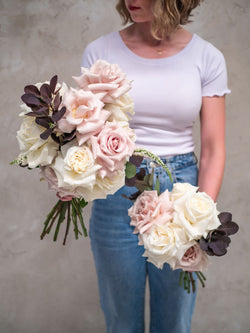 Maids Bouquet
Decided on your bouquet but still need something for your maids? No worries, we have you covered! 
You can select the same colour story as the bouquet you have chosen for yourself or you can chose one of the other three option we have available ... who doesn't love a bit of mix and match?
- Dark & Romantic
- Bright & Cheerful
- Soft & Pastel
- Neutral & Elegant 

FINER DETAILS -
Blooms - 
Our bouquets contain only the finest of seasonal blooms therefore we are unable to take specific request but rest assured that you will be absoloutly delighted with what we create for you! 
Care - 
Please note; if you are ordering your blooms to be delivered the day before your big event you will need a cool place to store them to ensure that they stay as fresh as possible for your event.
Delivery - 
Online orders are for pick up/drop off only. We do not offer setup or installation for your wedding. Delivery pricing and availability are subject to location.